Sandra Cunha's Writing Space
"miscellaneous paperwork and odds-and-ends"
This photo shows my current writing space, but it'll be changing soon, as I'm moving once again.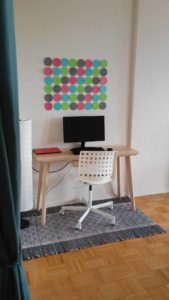 If you're wondering if my desk is always this tidy, the answer is no. I usually have some miscellaneous paperwork and odds-and-ends on it that are unrelated to my writing. But it's never messy. I'm a minimalist, so I'm not one of those creatives who can work in chaos. When it comes time to write, I like to clear the desk.
In the years since I've started taking my writing more seriously, I've had many different writing spaces. I went years without having my own desk (or permanent address) and relied on writing at coffeehouses with the "right vibe." I spent a few summers living in a university dorm room turned hotel room, declaring myself to be a writer-in-residence. And even now that I do have my own desk, I'm typing this while lying on my bed with my laptop propped up against a pillow. I didn't feel like sitting in a chair.
I once thought that in order to be considered a true writer, I'd need a writing room of my own. But what I really need is some sort of a surface to rest my laptop, maybe some earphones to drown out surrounding noise, and, most importantly, I need to do the actual writing. That is and will always be the hardest part.
Photos provided by Sandra Cunha