Confessions of Fifth Business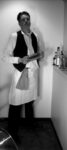 At first I wanted to be an artist. 
When my friend Shannon Reynolds sent me the audition call for her new Dramatis Personae series of paintings, I immediately wanted in on it. (Attention, immortality.) I'd posed for Shannon a couple of times before; once she'd come to my apartment and I had pulled a book from my shelf at random and slumped on my couch and pretended to read it while Shannon took photos. In the final painting I looked lost in a golden haze of thought and comfort, so now I fancied I knew something about acting. 
Looking at Shannon's list of roles, I quickly fixated on "artist." Because as a child I'd shown some drawing skill, and because at heart I still have a superstitious regard for the creative impulse, whether expressed in poem or painting or song. And because I have the physique of some diseased French painter. (See how quickly, how shamelessly, you start mythologizing yourself?) 
So Shannon and I pushed some ideas back and forth. At one point— and it is with great mortification that I record this—I suggested posing with a blank canvas, scowling away to indicate my, er, painter's block. I suppose I wanted to make the point that for many creative types, the craving for an audience precedes the actual inspiration. That proposed tableau, though, now strikes me as akin to posing with a typewriter and an overflowing wastepaper basket, and the memory serves as a helpful reminder that worthwhile art tends not to spring from the desire to make some point. 
Through all this Shannon was patient, gently prodding me to do some research as to what exactly a youngish painter would likely be wearing in the late 19th century—which was for some reason my time period of choice—and how the room might be decorated. (This was before she'd decided that the paintings would show very little background.) We kept corresponding, and I did a little reading, and over the next few months the idea … just quietly died. I lacked real inspiration, I told myself; there was some ineffable spark missing. The excuse of a hundred lazy wouldbe artists everywhere, I know, I know. But still. 
So I set out to play a preacher instead. 
Because of a nostalgia for the spiritual confusion of my youth, and because of my love for Flannery O'Connor's stories, with their morbid wit and their insistence that the quarrels you have in your head are the ones with the biggest stakes of all. Because of Jonathan Edwards and his furious admonitions in "Sinners in the Hands of an Angry God." And Robert Mitchum in Night of the Hunter. Let's face it, the sinister roughcountry preacher is a pretty cool icon. 
Which, as it turned out, was kind of the problem. Fascination with a role's iconography, with the accoutrements, does not quite a performance make. And try as I might to go method, I eventually had to concede that the spiritual confusion of my youth had hardened into a reluctant but resigned atheism. And on a more practical level, Shannon had been asking just what kind of stock character a preacher is supposed to be, anyway—wise man? rogue?—and I didn't have any answers. That collar and that Bible, I eventually admitted, would be too overwhelming if I tried to stitch them into some more generic archetype. 
But of course I still wanted to be a part of the series (attention, immortality) so we kept talking about other roles. I had no illusions about being a leading-man type: mine would be a supporting role, one who whispers from the shadows. At the same time, vanity compelled me to decline Shannon's offer of the part of the "boy"—the sidekick, the runner of errands. She pointed out that she still needed a villain, which was tempting; who doesn't want to play the bad guy? But whatever dramatic qualities my facial features may have, menace is not one of them. 
Finally inspiration showed itself almost accidentally, when Shannon idly mentioned fifth business. Of course both of us remembered Robertson Davies' novel, that celebration of a minor, seemingly forgettable player in a great drama. As the book's epigram explained, "These roles which, being neither those of Hero nor Heroine, Confidante nor Villain, but which were nonetheless essential to bring about the Recognition or the dénouement, were called the Fifth Business in drama and opera companies organized according to the old style; the player who acted these parts was often referred to as Fifth Business." This was a road-to-Damascus moment; the sense that this was the part for me was as strong as a bodily instinct. I wondered out loud how to represent a role like that visually, but Shannon solved that problem instantly, practically with a shrug. How about being a bartender? 
Brilliant, I thought. 
So a fifth business bartender was I. The next hurdle was puzzling out the real origins of the role. That explanatory quotation at the beginning of the Davies novel was attributed to "Tho. Overskou," in a book called Den Danske Skueplads ("The Danish Theatre"). There was indeed such a book, but I couldn't seem to find any confirmation of "fifth business" being used pre-Davies, by Overskou or anyone else. And as it turned out, this particular stock character in fact has a very recent vintage. In a letter to a Norwegian publisher (included in the correspondence collection For Your Eyes Alone), Davies admitted that he'd not only invented the term, but also blithely fabricated the Overskou quotation at the request of his British publisher. "As a theatre student I knew of [Overskou's] great work, and had been assured by Danish colleagues that it was not read in its entirety by many people," he explained. This discovery set off a brief stop-the-presses panic, but Shannon assured me that her world of dramatic archetypes was open even to imaginary ones. 
After that, the fun part was finding more text for the backdrop of the painting. I had a couple of quotations from the Davies novel at the ready, but a search for something more barkeep-specific led me to a slightly more recent and slightly less literary source: Toby Cecchini's acerbic memoir Cosmopolitan, about his life as a bartender and pub owner in Manhattan in the 1980s and '90s and 2000s. One of his mini-rants struck me as especially appropriate. "I wish I could be this good, this masterful and assured, at something other than bartending, but there it is, that's how it worked out," he wrote. "If this insignificant talent could be commanding a sailboat, painting frescoes, or performing surgery, I might be lauded by peers and public. If it were tennis or chess, defending divorcées or trading stocks, my competence would have made me a millionaire. Such as it is, I get the occasional inquiry wondering how long I've been tending bar. There are no trophies, no rings. Only we know and celebrate, the locusts having passed, our tepid glory." 
It was a reminder that the role of fifth business does not rest altogether comfortably on most shoulders, that, after all, few of us relish seeing ourselves as supporting players. That choosing a role buffet-style can lead to a melancholy stocktaking, a pondering of your own limitations and failures. 
And I found I kept thinking of something Shannon had written in a recent e-mail: that in many narrative paintings, it's up to the viewer to decide what the story is. Finally it occurred to me: what is the viewer— or the reader, or the audience—if not a kind of fifth business? The one who doesn't actually do anything of note, but who is still in some vague way "essential to bring about the Recognition or the dénouement"? Whose attention allows the entire play, the clash and splash of human vanity and achievement, to exist in the first place? 
Well, I'll take that. That's not a bad part at all. 
Once all the reading and modelling was over—with the text set and the wardrobe chosen and the photos taken and Shannon busy with the first sketches in her attic studio—I found that echoes were still sounding. At one point I had thought about playing the bartender role as a 19thcentury tavern-keeper, a stolid New York City man guarding rows of bottles as the El train passed overhead and rattled the room. That passed, but the brief fancy got me remembering Steven Millhauser's novel Martin Dressler, a period piece about a New York hotelier. Dressler is no fifth business, but rather a proud hero of limitless ambition, covering all of Manhattan in his stride, building one gigantic, elaborate hotel after another until his grandest creation finally ruins him. 
So of course I had to reread the book, caught again in Millhauser's eerie, dreamlike world. And that experience got me thinking of Frank Norris, who died at a young age more than a hundred years ago and is hardly read today. Norris's novels catch much more of the grit of the streets than Martin Dressler does, but they share with that book an abundance of period detail, an almost manic attention to the commerce of urban America. Now I find myself eyeing McTeague and Vandover and the Brute on my bookshelf, wanting once again to stand in saloon doorways and watch those miserable people surrender themselves to their fates. I look forward to these unexpected ripples, these weird reverberations, continuing and continuing.