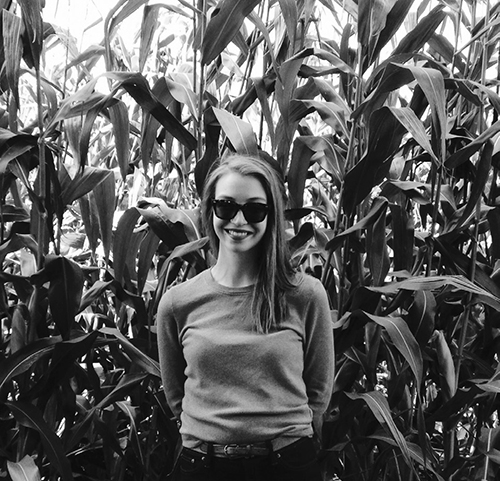 There is a process to processing and cataloguing.
I take the next daguerreotype from the solander box, and position it beside my keyboard. The case is made of a lightweight wood covered and hinged in papery leather, flaking at its stress points. The clasp is missing and I open it slowly, supporting both sides to mitigate any strain placed on its hinges. My breath catches and I hear it in the empty room, lit by both warm and cool fluorescents.
At first I assume the image has been damaged by someone attempting to clean the tarnish from the silver plate—the image-carrying particles of a daguerreotype rest directly on the surface of the polished silver, as insubstantial and evanescent as icing sugar on a classic powdered doughnut. But the destruction is too deliberate and there is a violence to it. Swivelling in my office chair, but not allowing my eyes to stray from the picture, I type into the title field: "Deceased child held by excised woman."
I measure the image and case, pausing to capture the numbers in the database. I keyword it with controlled vocabulary, add an approximate date, list the photographer as unidentified. I return to the title line and hesitate. To excise is to remove by cutting, and this erasure was enacted through abrasion. But the image hurts like a wound and all revisions seem dishonest.
I close the record, intending to go back to it to make that edit knowing I never will. I remove the image from the case and number its reverse before returning it to its enclosure. I set it aside, first to be photographed and later for conservation review. It is January 2013. I am on the top floor of an inverted mid-rise, two floors underground. On days like these I feel as though I am buried alive.
---
Nick dumps me just before Christmas and moves out of our home shortly afterwards. It is important for you to know that when this break-up discussion starts I am sitting on my bed, my back against my pillows and supported by my headboard. This conversation happens in two parts, at the remove of less than two hours. Nick sits in my reading chair by the door both times, and I bifurcate my memories of that morning based on the differential angles I have of his immobile face, his head and body tipped forward, his elbows resting on his legs above his knees, his hands hanging between his legs.
This, for instance, happens in the latter half. I am, at this point, sitting at my desk. I say: "It's fine." And I also say: "I'll always love you, but I won't always be in love with you." Or something. It is the exteriority of Nick that I carry rather than the words I speak.
---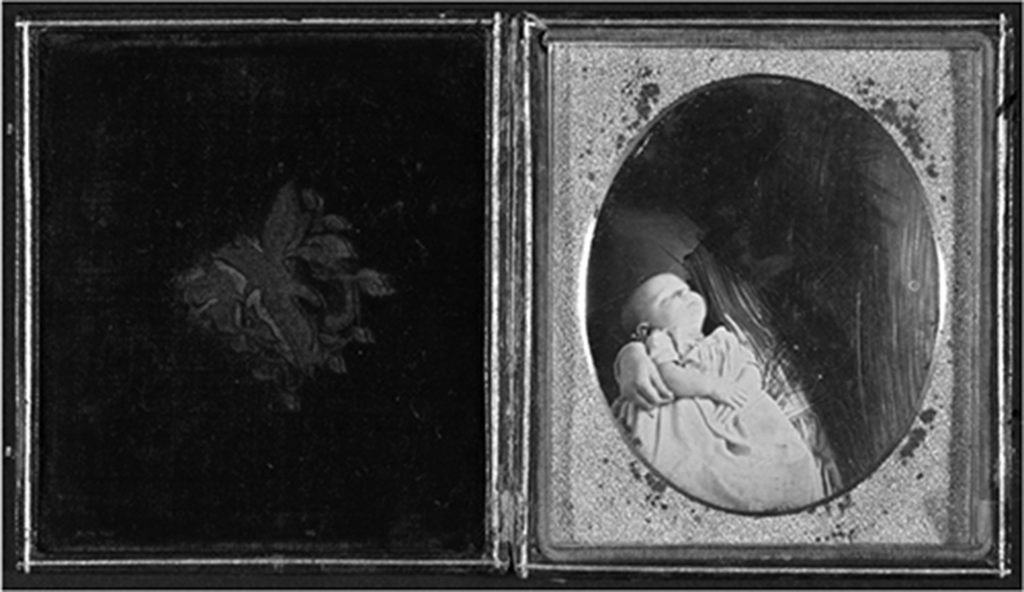 One hundred sixty-five years ago a toddler dies. A toddler dies, and this is not my story although it is part of my story. One hundred sixty-five years ago a toddler dies and there is no one here to bear witness, so if what follows is not the truth, allow that there is a truth here, too.
It happens quickly, the result of a swift-moving infectious disease for which we'll soon discover cures and vaccines. I assume the family has no living portraits of the child—daguerreotypy is a new art, and an expensive one. But there is a local photographer who travels to the homes of the deceased and takes one final image, for a fee. The family dresses the child and prepares the small body for the elaborate rites that will follow. The mother changes out of her stained dress, but she doesn't yet have appropriate clothing for mourning. No matter: a striped dress suffices.
The photographer arrives in a carriage bearing his whole studio. His set-up takes time and attention, but he works quickly and conscientiously: the best portraits of the dead are taken quickly, before the body stiffens and looks unnatural. (Perhaps he is even called before the child dies, after the doctor sighs, closes his eyes, pinches his temples, turns away.) He polishes a silver-coated copper plate, 2 ¾ by 3 ¼ inches, first with rottenstone and then with jeweller's rouge. He avoids the hollow eyes of the family, some of whom watch him as he works. He places the plate in a wooden holder and exposes it to the vapours of iodine, fol- lowed by bromine, and back again to iodine, using two of his own battered fuming boxes.
He has already moved a chair into the diffuse northern light by a window, without permission. He asks the youngest girl to fetch her mother and when her mother arrives carrying the child he arranges them as naturally as he can. The mother's head is gently pushed back until it rests on the loose prongs of a posing stand placed directly behind her chair. "Hold the child as you would normally," he might say, and then avoids the stricken eyes of the mother by moving to the large camera that sits on a tripod only four feet away.
He brings the mother and child into focus on the ground glass, hiding himself under a black cloth to do so. The image is reversed, laterally and upside down; he sees it in full colour, and watches as the mother fusses with the child's christening gown. He gives her a moment and then stands, shrugging off the concealing cloth that covers him. He slots the plate holder into the large camera and pulls a wide board from the cover of it. "Don't move, not for five seconds," he instructs the mother, and removes the brass cap from the lens. The space of two heartbeats elapses, and the cap is returned.
Now that the photograph has been taken, the body is prepared for the funereal rites that will soon follow. The child's hands are tied together with a posy of flowers and the parlour laid out for guests to pay their respects. The photographer has, in the interim, disappeared into a dark room and fumed the daguerreotype yet again—this time with mercury vapour. The photographer takes extra care, respecting both the volatility of the base material and the role played by the fumes in the process. It is, after all, the mercury that reveals the scene, coalescing the latent image and carrying it to the surface.
The photographer examines the image, is satisfied. He fixes the plate in a solution of sodium hyposulfite and washes it with clean well water the father draws for him on request. He places the plate flat on a stand, still wet but now with a clear image of mother and child, and pours a suspension of gold chloride, sel d'or, over the image-carrying side. It forms a meniscus, and he almost wishes that the wide-eyed youngest daughter could watch to see how carefully he has decanted the solution over the image. He holds the candle below the plate, evaporating the liquid and drying the plate.
And he is done. The image is placed behind a brass mat and both plate and mat covered with a piece of clean, clear glass, taped together and banded by a brass preserver. All are slipped inside a leather case, the portrait cushioned against a red velvet pad, and handed to the waiting family. It is a precious object, viewable only by one person at a time, and is passed from hand to hand until it reaches the mother who stands slightly apart from the rest. The mother looks at the daguerreotype while the photographer packs up his studio. The older sons help. The mother looks at the daguerreotype while the father counts out his coins and makes his payment. The mother looks at the daguerreotype while the father and the photographer shake hands at the door, and the photographer leaves.
The mother looks at the daguerreotype.
And someone scratches the mother's likeness from the plate with enough violence to score the plate beneath.
---
I move to Rochester, New York on a day that threatens rain, and I sit beside my parents at the customs station in Buffalo waiting to process my visa application. I am entering the country as a visiting scholar, about to begin a two-year curatorial fellowship in photography at a museum of photography and film. It is late August 2011, and my mother is knitting.
I spend the next two years working in the Photography Department in a sub-basement buried under historic gardens, my office directly below the Motion Picture Department's vault with only an un-insulated concrete floor separating me from the sub-zero temperatures they maintain. I am always cold. I have a certain amount of freedom when it comes to the work I do, and I choose to process a collection of 1000 postmortem photographs. This is the largest such collection in public hands in the United States, and as I begin I interview the collection's original owner. Speaking of his own relationship to the material, Walter says, "it became an embodiment." I do not take this as a warning.
The idea of a curator is an old one, coming to us from ancient Rome. A curator was a keeper, a man made guardian of minors, lunatics, aqueducts and roads. The notion of care is intrinsic to the role, and daily I tend to my collection. We show our character through the small acts of attention we perform, and I offer to this material my unswerving devotion. I catalogue, number, rehouse; at home I research and write. Roland Barthes' Camera Lucida espouses a theory that photographs that hurt best, work best ("it pierces me," he laments, looking at a photograph of his recently deceased mother) and there is a truth to this. Every sting pulls me in, and I am drawn further into my work to take the excised woman and her compatriots as my fellow travellers in that chilly subterranean vault: I cannot know their pain, but I must protect their images, preserve them. I distrust those who think these photographs strange, who fetishize their Victoriana kitsch. I believe firmly in the work that I do. I, too, inhabit the collection.
There are a lot of things I believe and desire in the early days of this assignment, when things seem open-ended and full of potential. I think, "I can handle this." Or, "This isn't too dark." And, most dangerously, "No one, no one, can serve these people better than me." Put simply: they were my dead, and I their custodian.
---
It is November 6, 2011, and our Rochester Americans are taking on blood rivals, the Syracuse Crunch. We lead from that voiceless velar stop—c-c-crunch—like we're cursing, and gleefully. And we are cursing and gleeful because the seats are cheap and great and the crowd is loving it, and hey, "when in Rome!", but also because Nick and I are happy and together and alone. Hockey and new love demand a certain attentiveness to the present moment, and we are at the edge of our seats as Syracuse scores three unanswered goals in the second period, taking us into the intermission with a one point, guest team lead.
Nick and I are sitting close, only armrests and awkwardness separating us. It is a Sunday evening and we both have work tomorrow, and we use this pretext to split a lukewarm beer shared from hand to hand, fingers slipping and touching at the pass. I do not know it yet, but while I keep the ticket stub from this game, Nick keeps our parking pass. We're here as friends first and subtext later, and so we shuffle our feet as the kiss cam dissects the crowd, avoiding us in favour of those less wooden. One week later I will ask, "You still have this?" spying the pass on a table and Nick will kiss me for the first time. The taste of his mouth is plastic, clean, and drier than I anticipate. It feels right.
It comes to mind that there is very little that distinguishes the prime of this relationship from any other happy coupling, only the specific acridity of his mouth that I have only just described. Like all happy relationships it contains synchronicity and laughter and limbs that catch and tangle under heavy blankets all winter long. For us two, everything seems easy for a time.
---
There is another thing that happens this November and again this is not my story. There are witnesses enough to narrate more fully what follows, so let these details satisfy: A 26-year-old man's cancer returns after a brief remission, and in the next nine months he will be caught in a world of experimental treatments and near-certain mortality. They will open the side of his neck and his sinuses and impede his ability to talk and interrupt his young man's face. They will blast him with cytotoxic drugs that kill his rapidly-dividing cancer cells but also the cells in his bone marrow, digestive tract and hair follicles. When he is dog-tired and nauseated, beyond all reasonable hope, they fly him to Boston for even more radical care.
But before Robbie dies Robbie disappears. After the fact, I will rationalize that dying is a difficult task. I will theorize that Robbie needs to narrow the world that he loves in order to leave it with any grace. Because in the last nine months of his life, Robbie is a closed book to his best friend Nick.
Nick and I used to drive back to his hometown of Canton, Ohio, and one day we stop at Robbie's house in the blandest of suburbs. It is a February evening, just months after we started dating. I am sitting in his silver pick-up truck and watching Nick standing at a closed door lit by cold security lights, alternating between ringing the doorbell and knocking. He shifts his feet—it is a brutal night—cups his hand and peers in the window. No one comes to the door, and I am rended. There is some relationship between the faculty of memory and the mechanics of a camera. We can all be photographs for one another, imprinted by what we see. This is the saddest thing I might ever witness, and it is a latent image I carry inside me always.
But I have said too much. On August 19, 2012, a beautiful end-of-summer Sunday in the golden light of late afternoon, Nick gets a text message from Robbie's sister saying that he's passed.
---
Nick attends the funeral alone. The whole long week leading up to the service he asks himself if he wants me to attend, and it is one of those final few weeks of summer when the light is liquid and warm, the nights cool, and the long, tall trees that grow on our street rustle fitfully through our open southern windows. Nick asks me to remain home on the morning he is to leave and I do.
This is the first time that Nick will disappear without leaving a trail of breadcrumbs for me to follow, and he disappears with more frequency as the long fall progresses. I watch Nick inhabit his body with the intimate and everyday knowledge of a lover: watch him trace the little, ring, and middle fingers of his left hand along his sharp left hipbone looking around his room, tidying it endlessly; watch him steeple his fingers over his nose and mouth, separating his hands to spread his arms wide in frustration and then in hard anger, laughing; watch the twin ridges of his neck's nape as looks at the ground. I watch him because I find it difficult to reach him.
Nick is at times tender, needy, angry, aloof. If I neglected to mention that he can be an unpredictable shit-ass at the best of times, let me now mention it here: Nick can be an unpredictable shit-ass at the best of times. ("He's nervous like his father," Barbara, his mother, says). But he is also many wonderful things and a raw wound beyond that, and this is enough. I try to shoulder his burdens, but I am no saint. I am: often afraid and sometimes resentful of his grief—a rock, a millstone, clingy, understanding, always neurotic. Our relationship is faltering long before we break up, long before Robbie passes, and so there are other things, all those petty disagreements that pinch-hit for significant grievances at the close of a relationship. But every time I think of walking away I remember him returning home from Ohio, exhausted, folding himself into the soft angles of my body to fall asleep in my arms.
We show our love through countless acts of care and devotion, I remind myself. I continue cataloguing the postmortem collection at work and I encounter three identical stereographs of an apparition at an Irish wake. "Be the Howly St. Patrick, there's Rabbie's ghost!" the caption reads. My exhibition does not pass the programming committee, and I am overwhelmed by the sense of failed obligation I feel. A week after Nick and I break up, when I still return to the home we share each day after work, I stand before a window of the museum and listen to the faint sound of bells tolling for the dead of the Sandy Hook Massacre. I am failing my dead, and the dead feel ceaseless.
---
But here is our happy ending, and forgive me if I led you to believe that one is not forthcoming. Spring comes to Rochester, and yellow aconites bloom under the purple beech on my way to work. I am with a friend one night, walking under the enormous trees that line the Victorian neighbourhood around my house, and I am surprised by the sound of my own laughter. I test it like a bruise, and sound it into the night. It feels as natural and joyful as the season's first bike ride. I laugh again and don't stop. On a rainy day in June I deliver a public lecture on postmortem photography and afterwards a man sends me photographs he has taken of his father in his casket. I remember why my work matters, and the next day pick overripe strawberries until my back hurts. My exhibition moves forward.
Grief sent Nick on a singular journey, and I am happy to report that he returned. I cannot hold him in focus for long—I feel, at times, he is a figure receding into the distance; at other moments, he is a nearby figure simultaneously obscured and silhouetted by frosted glass—but I see enough to know that he is fine. If you remember nothing of Nick and you never meet him nor know more about the dark days of his mourning than I have told you here, remember that he is never angry with Robbie over his disappearance and that is grace and friendship itself. If ever I acted as a lightning rod for the frustration he felt, then know that I am as glad to have done so as I am to have escaped.
And as for the excised woman, surely you believe (as I do) that her erasure was a self-inflicted one? It can be dangerous working with photographs; they are subject to time and entropy but impervious to character development or denouement, inherently non-narrative regardless of how evocative an image it may be. So, really, what can be known about this daguerreotype? One hundred sixty-five years ago a child dies. One hundred sixty-five years a child dies, and maybe a stricken mother strikes her own image from a mirrored plate. Perhaps this woman is enacting a kind of violence to her own image or she too is leaving for parts unknown, a private journey she cannot share with those who look for her inside this leather case. One hundred sixty-five years ago, and all that remains is this museum artefact, a visceral, visual trace. Her material record ends here, but it is not for us archivists and curators to decide that her story concludes with this one despairing act.
I have given her my labour and now I offer her my prayer in hopes that she, too, isn't erased entirely, but that she is instead a latent image lying in waiting. That one day she takes a cool, calm breath and looks around at those who love her, resting at the top of her inhale, recognizing her loss but embracing it within the fabric of her life. That she emerges again to the surface of the daguerreotype, a mercurial ghost rising like cream through coffee.
---
Image used with kind permission from the Walter Johnson Collection of the George Eastman Museum