Hege Jakobsen Lepri's Writing Space
I struggle with keeping my writing to one space. I have a rather large study with a six foot desk on the third floor where I do most of my translation work. I have a large book case and all my dictionaries there, and there is even plenty of natural light. But I rarely manage to do much writing at that desk, maybe because I feel the seriousness of translation and deadlines seep into my writing. So I've become itinerant.
In the spring and summer, I like this nook in my bedroom, where I can see people on the sidewalk and birds in the tree next door. That frequently gives me inspiration to write haiku, which is a daily practice I've been faithful to for the past year. On days when there isn't much time to write or my writing doesn't flow, twenty minutes of haiku usually saves me from feeling like a complete failure as a writer. Focusing on the practise instead of the the result has opened up new valves in my writing life.
I also try to do prompt writing based on things I see outside. A paragraph of something that isn't related to any of my projects (yes, I'm one these writers who decided to accept my ADD instead of fight it, so I have several project going at any given time).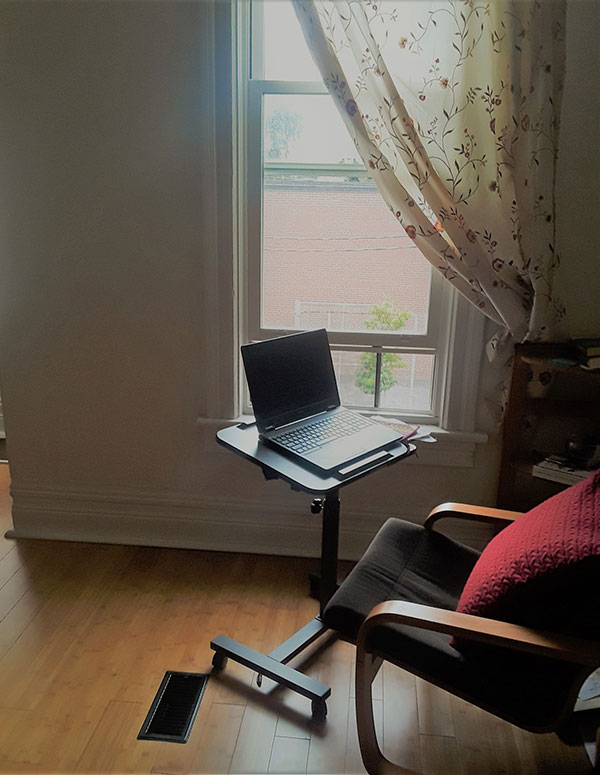 Since I got my first laptop, I've enjoyed the freedom of being able to work anywhere, so around lunch, if I don't have too many translation deadlines, I'll allow myself some writing time in the kitchen, where I have a view to backyard squirrels and a large maple tree. That maple tree appears in several of my short stories, so my kitchen sessions clearly shape my writing.
When I'm really stuck in a project, I'll even leave the house. Walking often allows me see connections in my work that I don't see when sitting in in the same position in front of a screen. I usually bring my notebook with me, and may find a place on a bench or in a coffee shop to write down whatever epiphany the walk has given me.
And sometimes, and I know this is a no-no, as I turn off the light to go to sleep, I see a solution to something I've been struggling with in my writing. And I'll turn the light back on and start writing, sometimes for several hours, Fortunately, my husband is a good sleeper and doesn't mind.
Hege Jakobsen Lepri is a Norwegian-Canadian translator and writer. She had her first story published in English in 2013 and is still asking herself what her true voice is.