TNQ's 2017 Edna Staebler Personal Essay Longlist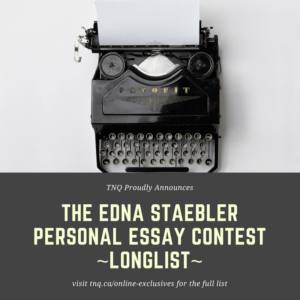 The New Quarterly has unveiled its longlist for the 2017 Edna Staebler Personal Essay Contest. "We have twelve fine personal essays this year," says Susan Scott, TNQ's lead nonfiction editor.
"Personal essays demand risk," she explains. "It's a form that challenges writers to use their own experience to bore into an issue. A good essay demands head and heart from the writer, and from readers, too."
TNQ's 2017 personal essay longlist includes:
"A Different River" by Susan Olding
"Atomic Tangerine" by Marion Agnew
"Before You Were Born" by Christopher A. Taylor
"Borderland" by Gudrun Will
"Difficult Light" by Anne Marie Todkill
"How Not to Drown" by Sally Cooper
"Inheritance" by Theo Di Castri
"Notes from the Shire" by Isaac Yuen
"Number" by Isabella Stefanescu
"Plain Sight" by Anne Marie Todkill
"Shortcomings of a Juvenile" by Isabella Wang
"This is a Love Story" by Michelle Kaeser
The winners and shortlist for the 2017 Edna Staebler Personal Essay Contest will be announced by August 31st, 2017.
Edna Staebler was a pioneer in the field of literary journalism and a beloved figure in her (our) home region of Waterloo, Ontario. Her first article, "Duellists of the Deep," a story about swordfishing with Neil's Harbour fishermen, and published in Maclean's when she was in her forties, won the Canadian Women's Press Club Memorial Award. Edna went on to publish with Chatelaine, Saturday Night, and other flagship magazines, while her books include the Food that Really Schmecks series—cookbooks so entertaining that people read them in bed. Edna led by example in other ways as well, founding eponymous writers' awards, scholarships, and bursaries to nurture writers. She helped to found The New Quarterly in 1981, and in 2005 her generous bequest allowed us to establish this award, in her honour.
Winners of the Edna Staebler Personal Essay Contest attract other accolades as well. Julie Paul (2016) has a new book, The Rules of the Kingdom, published by McGill-Queen's University Press. Elana Wolff's "Paging Kafka's Elegist" (2015) is featured in The Best Canadian Essays of 2016, published by Tightrope Books. Emily McKibbon (2014) was a finalist for Best New Magazine Writer in the National Magazine Awards; her essay was republished as a chapbook by Baseline Press (2016). Sierra Skye Gemma (2012) won the coveted award for her controversial "The Wrong Way," which was also picked up for Best Canadian Essays 2013.
TNQ has won ten gold medals, seven silver, and thirty-five honourable mentions in the eighteen years that it has participated in the National Magazine Awards — the most by any literary magazine. This year, Liz Harmer earned honourable mention for her TNQ essay, "My Flannery." And in 2015, Kathy Page's "The Green Lane: A Dead Man's Things" also earned honourable mention.
The New Quarterly has been publishing the best of new Canadian writing—fiction, poetry, author interviews, essays, and talk about writing—for more than 35 years. TNQ also has two other contests: the Nick Blatchford Occasional Verse and the Peter Hinchcliffe Short Fiction Award.