What is Ami Sands Brodoff Reading?
During the early days and months of the COVID-19 Pandemic, I found I could not read.  Normally, my reading times—a bit with morning coffee, a longer swathe at teatime after I knock off my own writing, a scoach before bed—are among my favourite parts of the day and compose a ritual.  Like so many of us, I was anxious, distracted.  I compulsively doomscrolled which made my disquiet spiral out of control.
Finally, in late March, I dipped into Shuggie Bain, the debut novel by Douglas Stuart, not on my Kindle or iPad but into the physical book.  I was hooked. Once again, reading was soul-sustaining and I couldn't wait for those times when I could pick the novel up again.
Shuggie Bain tells the story of a young gay boy in 1980s Glasgow and his enmeshed and passionate bond with his beloved single mother, Agnes, who struggles with alcoholism. It's a visceral portrait of Glasgow during the Thatcher years, which was wracked by poverty and unemployment, a macho, unforgiving place where most of the working class men were unemployed.  Someone like Shuggie who was "no right" just did not fit in and was mercilessly bullied.
Shuggie Bain, which ultimately took home the Booker Prize, is an immersive read, like the best Victorian novels.  Stuart's prose, built on a series of vignettes with the two main characters, but also featuring many secondary and minor ones, is unsparing, lyrical, and revelatory. The reader feels like she is inside every scene and can see, hear, smell, touch and taste what is happening. The book is both brutal and beautiful.  It's tough, desperate, funny, and incredibly true to life.  I loved this novel so much I ordered a signed hardback for our library all the way from Scotland, the only place I could find one at the time.
Once I got back into reading, I couldn't stop!  I loved The Vanishing Half, the sophomore novel from the talented African American writer, Brit Bennett. The story focuses on the Vignes sisters, identical twins, who grow up in a colour-conscious tiny little Louisiana town where most of the Black people are light skinned.  As teens, Desiree and Stella escape.  Many years later, Desiree returns home with her young daughter after fleeing an abusive marriage, while Stella disappears.  Across the country, Stella is secretly passing for white and has built a whole new life based on lies and a false identity.
Bennett has a warm, enveloping style, and her brilliant novel explores combustible and timely issues of race, gender, and identity.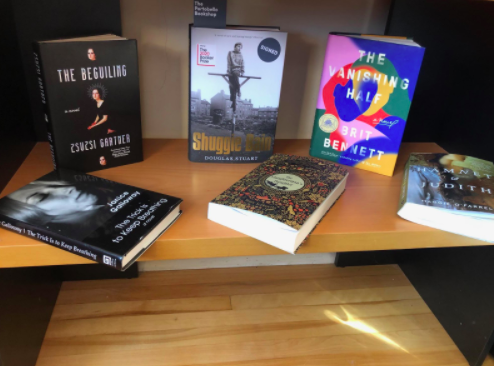 I'm about to start Zsuzsi Gartner's acclaimed novel, The Beguiling, a finalist for the Writers' Trust Prize. Mona Awad calls it "a symphony of a novel, multi-voiced and kaleidoscopic." The main character, Lucy, is a lapsed Catholic who turns into a "flesh-and-blood Wailing Wall," with strangers confessing their sins wherever she goes.  I know from Gartner's stories that she is an original and electrifying stylist. I can't wait to crack this book.
You'll see more tempting titles pictured here that I plan to read during our long, cold, Northern winter. And oh, by the way, everyone is reading, including our Brittany Spaniel pup Xeno.  No, he's actually devouring a book he does not approve of at all!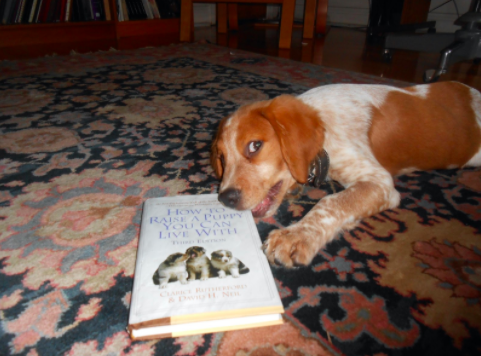 Ami Sands Brodoff is the award-winning author of three novels and two volumes of stories. Her novel-in-stories, The Sleep of Apples, is forthcoming. Ami is a participating writer in StoryScaping, a new program offering creative writing workshops to teens and seniors in underserved areas of Quebec. Learn more at Amisandsbrodoff.com.