Writing Spaces: Cornelia Hoogland
Today in Writing Spaces, we take a peek into the working space of Cornelia Hoogland, author of  "River Rhône" in Issue 144!
The windows: a glass door, a stained-glass border around a window, and a skylight give me daylight and at night, the stars. The stained glass in particular changes as the sun moves across the sky from east to west; it throws colour against the wall. The door's window creates a sense of being outdoors, gives me access to the outdoors, and the skylight feels airy and spacious. Nuthatches, chickadees, and toews at the feeders, and my dog's nose against the glass door.
I kneel on a stool rather than sit in a chair. I know this is good for my posture, but it limits the length of time I can stay seated. If there's a tip I wish I'd follow, it's getting up to reach my arms behind me and over my head, and to bend every half hour or so. You'd think the kneeling stool would facilitate the stretching, wouldn't you?
My space is reflective of my writing process. When my children were young I was a student. I dreaded Easter vacation as their school holidays coincided with my final papers and exams. I would arrange the (the kiddos) around the dining room table with glue and coloured paper, and felt tipped pens. I've always written in the presence of others, often in the dining room. There were years that I had a room of my own; blissful. But I've enjoyed working in coffee bars, and in some ways my kitchen isn't that different. Well, it is and it isn't. There is all the world between gathering my docs and whatever else I might need and travelling to a café by bike or on foot––and walking past the stove on which I cook and sitting down at the computer. Also, it's embarrassing having a Skype conversation, knowing he or she can see the fridge behind me. I'd like to make a case for having a fridge in one's study, namely: the food. Very available. Also being in the kitchen means I can make tea and coffee easily, and stir the soup between drafts. This ease of access is the best thing about my kitchen study but also the worst. True, I can sit down at my desk quickly and write a note to myself no matter how short the time. I can, however, leave my desk just as quickly, pulled away by a ringing timer, dirty floor, or a compelling urge to start supper. Plus the wine, beside the vinegar and soya sauce, is on the shelf behind me. Which will it be?
I keep photos of my son in his graduation gown, of my new grandson, Mihai, and of my brother who died. I also keep my tools (pens, stapler, tape (in a sturdy holder), envelopes, tacks close to hand (close to hand is a great phrase). I keep books whose influence I want to feel in my work, either in terms of form or subject. They change from time to time, just having them there satisfies me. My husband feels he needs to change my artwork near my desk; most often they're his art pieces. It's a good practice, I think. We become inured to our surroundings; changing things up helps us better see where we are. Writing this piece has shifted things for me; I'm reminded of keeping my kitchen-study as inviting as the promise of a good coffee at my local Starbucks. That will take some work.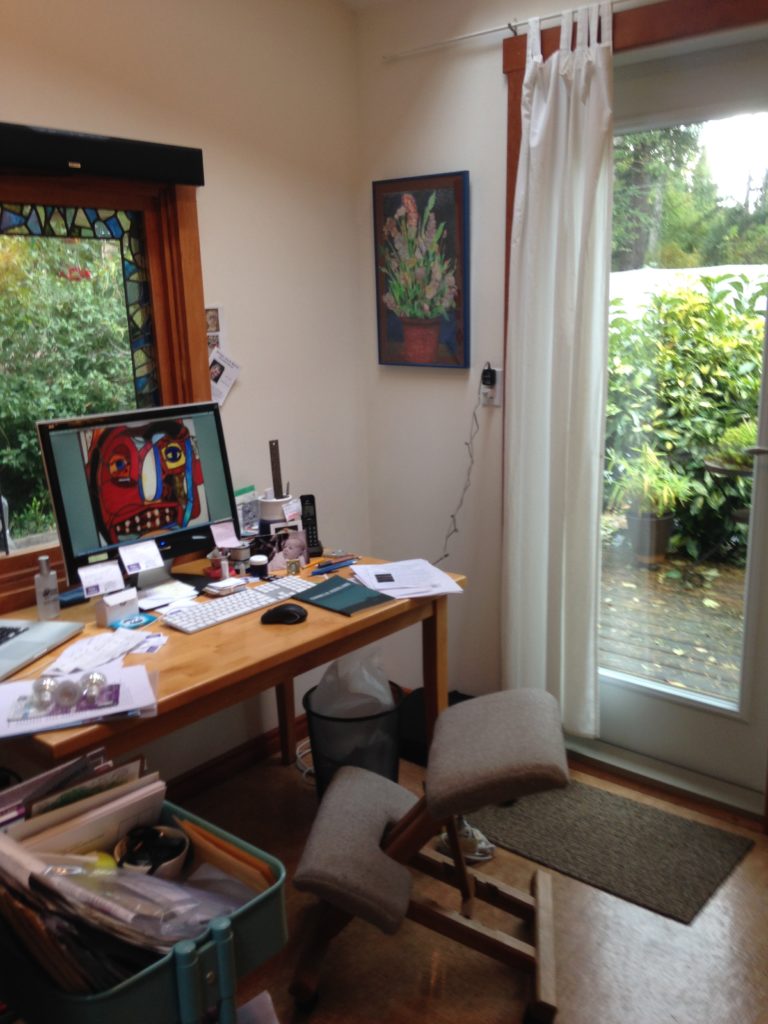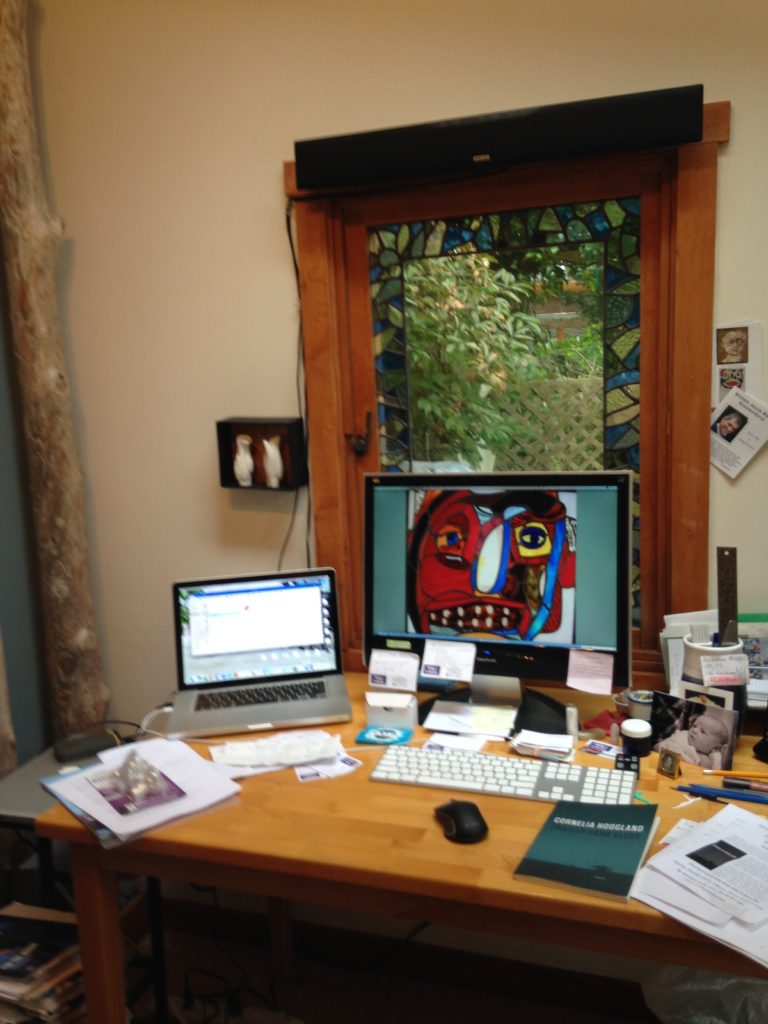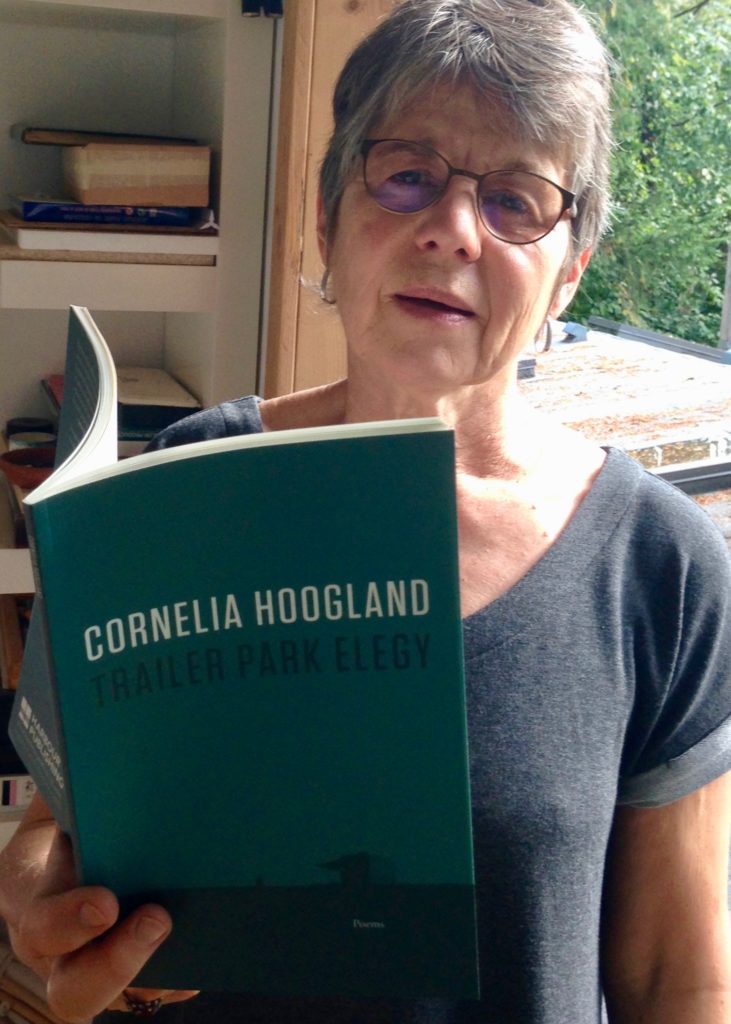 We're giving you a behind-the-scenes look into the writing process – straight from the desks of our contributors! Check out the full series here.