TNQ's 2018 Nick Blatchford Occasional Verse Contest Longlist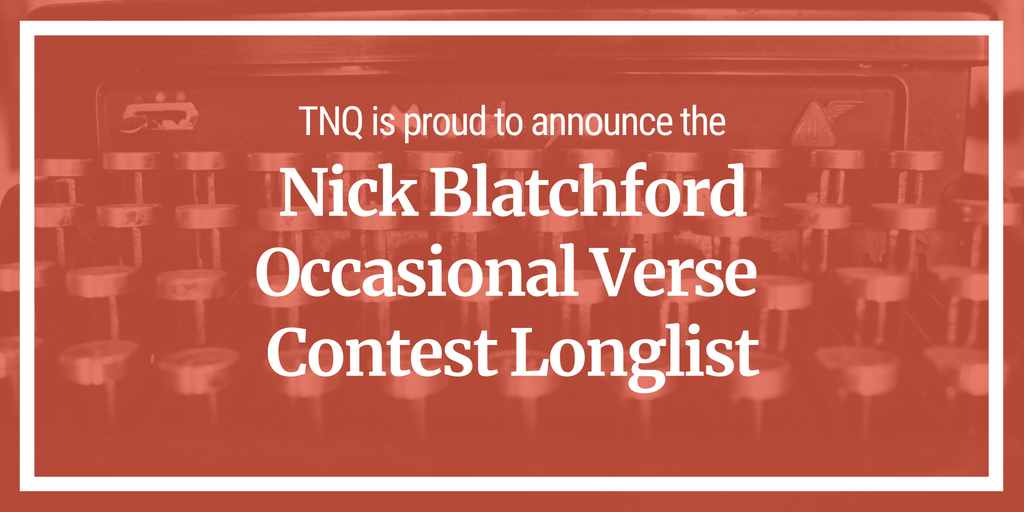 Providing a home for poetry by both established and emerging poets has, from the start, been an important part of The New Quarterly's (TNQ) mandate. The Nick Blatchford Occasional Verse Contest is sponsored by Kim Jernigan, and her family, in memory of her father Nick Blatchford, the man who sparked the family's love of poetry. The contest invite poems written in response to an existing occasion, personal or public, or poems that make an occasion of something ordinary by virtue of the poet's attention.
This year's judges received more than two hundred entries which was narrowed to a longlist of 14. Contest judge Amanda Jernigan notes that the contest received "a wonderful range of occasions this year—and some really strong poems as well. As always, I feel this contest does a service to poetry, and to readers, by emphasizing and celebrating the myriad social functions of poetry: fȇting, mourning, decrying, celebrating, poking fun."
TNQ is pleased to announce the 2018 Nick Blatchford Occasional Verse Contest longlist:
Sarah Tolmie, "On the Pronouncement by Pope Francis I Concerning the Nutritional Content of the Eucharist"

Catherine Malvern, "December's Child"

Judy Barlow, "High-gloss"

Sneha Madhavan-Reese, "Free Fall"

Suzanne Nussey, "For my Husband on Our Anniversary"

Terence Young, "The Bear"

Daniel Scott Tysdal, "Spring"; "Don"

Rob Taylor, "What did you dream about?"

Frances Boyle, "Passage Tomb"

Crina Bondre Ardelean, "Cardamom"; "The Beets' Red"

Cynthia Woodman Kerkham, "Crossword"

Tanis MacDonald, "The Haunting"; "Confession to my rapist that I never understood him"

Judith Penner, "Birthdays (for Jake and Colin, on their January birthdays)"

Anne Marie Todkill, "Orion Sweeping"
The winners will be announced by August 31, 2018.
The New Quarterly has been publishing the best of new Canadian writing—fiction, poetry, author interviews, essays, and talk about writing—for more than 35 years. TNQ also has two other contests: the Edna Staebler Personal Essay Contest and the Peter Hinchcliffe Short Fiction Award.