What is Ferrukh Faruqui Reading?
I recently culled my bookshelves. It wasn't a one-off event, more a drawn-out process like someone crouching on wet ground, half-heartedly scooping a toy net into an overflowing bucket of water, half-hoping the canny fish, their scales flashing silver in the sun would continue to elude the snare. 
There's something about owning a book, the physical heft of it, its strong sturdy spine, its white pages inscribed decisively in black, fluttering in the backyard breeze, something fragile but strong, the font authoritative, something like scripture, a secular guide to living.
Eventually I admitted that I was just never going to reread some of my books, but I still winced when discarding these volumes in grocery store boxes that previously held heads of lettuce or yellow bunches of Costa Rican bananas. I tried to be ruthless, to not get waylaid by the beauty of random phrases or descriptions of strange landscapes, or by characters with teacup ears.
After a year of languishing inside their splitting cardboard vaults in a corner of the garage my husband hired someone to spirit them away. I turned my head as they disappeared. 
Some books are so beloved I'll never stop reading them. I hug them to my chest with pleasureful dread, knowing the steep price I'll pay. Coinage not only in hours, but in tears, fat and salty. I'll inhale deep lungfuls, down to the physiological dead space where oxygenated air rarely penetrates, to swim with the sharp-edged feelings the author rips from me. Long past midnight I'll switch off my bedside lamp, my spent body sliding down my mattress like a wrung-out thing, to lie open-eyed, staring into bedroom darkness with thoughts ricocheting off each other like whizzing protons in quantum fields, dazed by revolutionary ideas. Sometimes we nestle into stories which are the literary equivalent of tea and toast, like Elizabeth Gaskell's criminally underrated novel Wives and Daughters. Other tales slam into us like sledgehammers. Lanky, lonely Ruthie narrates Robinson's Housekeeping, speaking truths we keep forgetting, leaving us as limp as convalescents. This is the book I read when I need to cry but can't.
My first decent part time job paid enough for a modest book budget. I don't remember when I first read Rosemary Edmonds' translation of Anna Karenina, but I do know the Penguin paperback cost me only $5.95. As an earnest virgin I sympathized with poor naïve Dolly's heartbreak, but try as I might, I couldn't dislike her philandering husband Stiva. So many Tolstoian scenes ring with the messiness and malice – and kindness too – of real life. Anna alighting from the train in Moscow, pleasantly conscious of performing a good deed, Anna frantic for Vronsky while her punctilious husband shields her from the crowd at the steeplechase. The bloodless Karenin dissolves into tenderness as Anna delivers her lover's child under his roof. All three actors in this unhappy triangle are doomed. Passion animates imperfect, perhaps immoral characters drawn in heartbreakingly human dimensions. The social strictures of 19th century Russia imprison both Dolly and Anna. Seriozha's snuffed out joy in his mother's clandestine visit plunk us into her tortured mind and forbid us from judging her too harshly. The final drawn-out scene tightens the screw with each beat of a ticking shell. We live in her head as she's cornered, torn into pieces, driven to visit the pitying Dolly, firing off threatening notes to her lover yet panting for his return. The tension ratchets up till her pain explodes leaving her body crushed and broken on the train tracks.
 I need to hear the stories that Tolstoy wants to tell. I want to tell stories that engage, enrage, delight. Whether Anna was bad, mad, or simply a woman trapped in a world not of her making, her story scorches me because she is flawed, she is real.  Drawn back again and again I become Anna: desperate, furious, abandoned; seeking absolution, seeking release.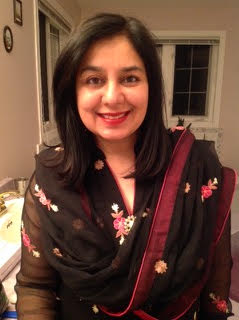 Ferrukh Faruqui was born in Karachi, the city by the sea. Raised on the edge of the Manitoba prairie, she's content either streaking through water or tramping across snowy fields.