The Shelter
by Zahra Mohamed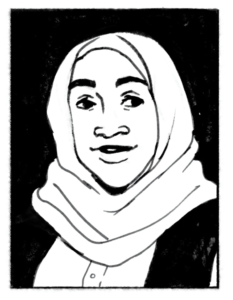 As a small child I grew up in the diaspora, always asking my Dad why we weren't living in my home country, Eritrea? With a smile, he would always answer "one day."
I spent most of my life outside of Eritrea.
I realized how frightening it is to have no country in which I felt safe. I wanted my children to grow up in safety, and have a good upbringing in a land that would protect them.
I decided to move to Canada with my five children.
When we arrived in Canada as refugees, we had no place to go to. We knew no one. So we stayed in a shelter in Fort Erie called Casa El Norte. The home had families from around the world. I later learned that "casa" in Spanish means "home."
On our third night, I heard a loud knock on the door of the shelter. When I opened the door, I found a man who looked scared, terrified, and tired. He had just arrived in Canada as a refugee. We gave him clean clothes and I prepared food for him.
I had just been given a new green blanket. The blanket was the first new item I had received at the shelter. I left it in its packaging, hoping to use the blanket in my new home. But when the man came that night, I opened the package and gave the blanket to him. I felt he needed it more than me.
I was unable to sleep that night, and neither could everyone else. We sat down at a round table talking.
We all had one thing in common: We were all in search of a land that would give us our basic rights. A land where we can practice our humanity. A land in which we can live in peace and safety. A land that we can call home.
Canada became that home.