The Invisible Border
by Dani Guse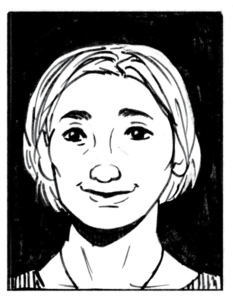 In the summer of 1989, my friends and I spent a lot of time at the beaches of the Elbe River that divided East and West Germany. We would light a bonfire, listen to loud music, and have a good time. It was also a regular occurrence that an East German border patrol boat would turn up, cruise along the river and take photos of us. They never talked to us.
Not until one day, when my friend Tobi and I went for a swim and crossed the invisible border somewhere in the middle of the river.
The search lights from their boat illuminated the waters around us. Showoffs, I thought. The sun had just set; they definitely could see us without the lights. I wasn't scared. Like every teenager, I felt invincible.
"You're illegally entering the waters of East Germany. Swim back. Immediately, without delay." A monotone voice announced through a crackling loudspeaker. I saw that the border guards were scowling at Tobi and me.
Music blared from an open trunk of my friend's car. On the beach our friends sat around the fire. I heard their animated conversation and bottles clinking. I exchanged a look with Tobi, he just winked at me.
Then Stefan shouted to the patrol boat from the beach. "Hey, what's up? Wanna join our party, little soldier boys?" He had gotten up and raised his bottle.
"Come over, let's have a beer together. We won't tell any Stasi officials about it." Our friends' loud laughter rang in my ears.
The officers reached for their guns and clutched them tightly. I forgot for a moment to tread water and almost went under.
"You're illegally entering the waters of East Germany. Swim back. Immediately, without delay." The guard repeated sternly.
I stared at his gun. I had never seen a gun so close in real life. It looked awfully big. And lethal. My hands and feet were getting cold. I shivered.
"Do you really think that they would voluntarily sneak into your stupid socialist country? What are you going to do?" Stefan couldn't keep his mouth shut. "Will you shoot them?"
The officers pointed their guns at us. My pulse raced, I could hear my heartbeat in my ears.
These men had real guns, and I knew that they were loaded. These men were the ones who had aimed a gun at a teenager who had fled from East Germany about a year ago. He had swum across the river and had collapsed onto the beach where we were tonight. As he lay on West German soil, panting, they shot at him and injured him severely.
I urged Tobi to swim back to the beach. He nodded, silent with eyes wide open. The search lights were following us.
When I reached the part of the river where I could stand, I ran as fast as I could. Then I slumped onto my towel, catching my breath.
As Stefan and the others had a good laugh about the incident, the search lights went dark, and the boat slowly took off. The fainter the motor got, the more I calmed down. When it was back to just the sound of the spitting fire, some music, and my friends' voices, I felt invincible again. I stared at the river, and still couldn't tell where the border was.
Later that year, the Berlin wall came down. Germany wasn't divided any longer. After more than 28 years, the border at the Elbe River just washed away. Vanished. Like it had never been there at all.