Green Avocado Bag
by Uzma Bhutto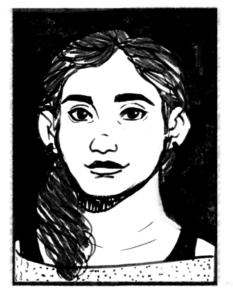 In 2005, my life took a big turn: From the foggy streets of Karachi, Pakistan to the seemingly never-ending winter of Waterloo. I was 22 years old. An energetic young married doctor. Three months pregnant with my first child. I was leaving everything behind: my family, friends, work, culture, and the luxurious life that I'd had. My husband had been offered a job at the University of Waterloo.
It was the night before our flight. I sat on the carpet in the huge living room with four brand-new bags fully packed to the top. Suitcases for my belongings were stuffed with heavy medical books, school transcripts, letters of recommendation, clothes, two heavy pairs of ugly boots for winter, and my unborn child's bedding, clothes & shoes.  "That's too much luggage," I said, to myself.  I had to repack and think about what I should take. From my avocado green bag, I took all of the things meant for my unborn child. All of those things were going to be left behind. But I wasn't very happy about it!
"All I ever wanted was Everything!" I said.
Sitting there, I paused for a moment. My mom's words rang in my ears from the past: "My jan, my beta, when you will become a mother, all you will do is just shopping for your child. Wherever you will see clothes and babies shopping, your child will come to your mind. You will forget about your own self". My answer to my mom these first two years of married life was, "Not at all, I will always think of myself first and then my child. I am more important to my own self". At this my mom would laugh loud.
I had to rearrange and repack everything again. I put all the baby's things back into the avocado green bag: baby's clothes, shoes, blankets. "Oh! You want to know what I took out from the bag, ha ha! The two pairs of those heavy ugly boots for winter, my beautiful, long but quite heavy jackets, some pretty looking party shoes and some desi cultural dresses made to order."
The moment I stepped out of the Toronto airport, my eyes focused on the avocado green bag on the conveyer belt. Not because it was beautiful, but because it had my son's necessities of life.
At that moment I knew I wanted to welcome him with everything that he would need.
My son, Uzair, is 13 now. I still have the same love, affection and care for him. Maybe this is the reason he stares me in the face and says, "Mama, why are you so chubby that I want to eat your cheeks up?" "Why are you my mama? Why, why, why, God made YOU my mama?" My answer to him is "Because we both are stories, and the most beautiful stories are made by humans. Stories have heroes like you and me". Someday I will tell my son about my avocado green bag: this bag is not just a bag, it has memories, sacrifice, connections, and pure unconditional love.