Teachings of Nature
by Paulina Rodriguez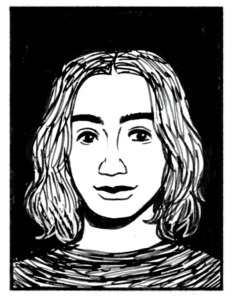 I was kneeling in the depths of our immense backyard. To my ten-year-old self, it was not a backyard but a rain forest.  Raindrops were soaking the soil; it was a wet afternoon in the tropics of El Salvador, Central America. When it rained, the trees in the backyard were like noble guardians covering me but still distributing the raindrops where they were needed. The bamboo-brown plants were like skyscrapers, rivaling the trees in height and beauty. Their leaves made up a leafy paradise and their spine resembled that of an old man. Being in the middle of that backyard felt like being in the Amazonian rainforest.
The last rays of the afternoon sun escaped through the cloudy sky and fell over the leaves and the branches above me. The tall mango and avocado trees surrounded me like the arms of my mother during a thunderous night.
I was meeting my cousin Chele who was already setting the soil to start planting. He was dedicated to growing the greenery in our backyard, and seeing my love of nature and the outdoors, he recruited me for this important task. Chele was patiently guiding me step by step, helping me carve a hole in the ground for the new plant. He told me about why we need to enrich nature like it enriches us.
I was mesmerized by his wisdom and by the way he caressed each plant.
At the time I lived in an intergenerational home as is common in many cultures around the world. My immediate family was composed of my grandmother Nena, my mom Violeta, my sisters Gaby and Viole, my aunts and uncles, and my cousins. My parents had separated after the civil war in El Salvador, which is what originally brought them together. My dad had gone to Canada as he had lost any hope of change in El Salvador, even after hundreds of thousands of lives had been lost in fighting the revolutionary war against the Salvadorian military government. My mom still held the hope that change was coming and could not be convinced by my dad to leave.
The sultry summer air was blowing around us, and I was overwhelmed by the joy of touching dirt with my bare hands. My fingernails were filled with dirt, but I knew that in this moment, nothing else mattered but the sweet feeling of being in nature. It was like the trees were speaking to us; they were thanking us for helping them grow in this wide, grassy and open space.
I could hear the leaves crumbling under our feet, ants surviving the weight of our bodies. I was holding the mango plant that was about to get rooted. Its leaves were a beautiful green colour like grass, its roots the colour of mud.
Through my cousin's teachings, nature became my connection to home. Being in nature made me feel like I had complete freedom to be myself. I admired my cousin who was ten years older than me. He taught me about what really matters in life. Not material things or riches but making life better for others.
There was nothing polished about our backyard. It was messy and wild, there were plants growing out of old milk cartons, rotten mangos, avocados and guayabas all over the ground, and trees growing on top of each other. During the growing season the mangos started falling from the trees. My favorite thing to do after school was to pick up mangos and eat them while I read a book on one of the branches that I loved climbing. This was my fort, my palace, orderly in its own way, and I was the queen.
Twenty years later, I no longer feel rooted to any one place. When I left El Salvador I thought I was never looking back. Time has gone by and I still remember the smell of wet soil, the warm sticky air touching my skin, and the trees, tall and gracious.
Now I have a very small garden that I am cultivating. It is nothing like my grand luscious back yard in El Salvador. The nice thing about it is that it is mine. I get to pick the trees and the flowers that grow in it. Not mango or avocado trees, but sugar maple and black oak trees. This time around, I am alone. There is no one next to me, to teach me.
It is lonely in here, in my small garden. There are no tall mango or avocado trees to surround me with their long branches, no sultry air to fill my lungs, nor deep roots to help me feel grounded. I no longer live in an intergenerational home, since my family is now all over the North and South American continents. But it is also liberating to be alone, to flow with the air of my own spirit. I get to touch dirt with my bare hands once again and this time I get to decide when there is too much dirt in my fingernails.