The Patchwork Story
by Hamideh Eltejaei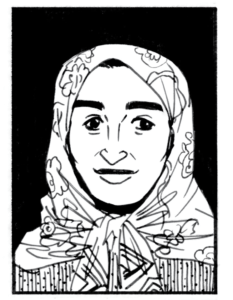 It was the last month of winter in Tehran, known as Esfand, according to the Persian calendar, which in Canada would be February 20 to March 20. I was eleven years old. It was still cold outside and we were preparing for spring and for Nowruz, the Persian new year. There is a Iranian tradition called Khoone Tekooni that means shake the house which should be done before Nowruz. In doing this tradition the house is made very clean and tidy before spring. So when it was the time of Khoone Tekooni, Maman liked to clean every single spot of our house: closets, cupboards, clothes, windows, and even walls. It took about one month for Maman and Baba to complete all of this deep cleaning.
The most fun part of this yearly "earthquake" was when Maman cleaned all the quilts, blankets, futons, and pillows. She would take off the covers and wash them, and hang them on our balcony to dry. Meanwhile, we kids had fun rolling around on the pile of cool blankets. We also crawled under them and raced each other. For my two younger sisters and me, moving beneath those blankets was like crawling through never ending tunnels.
My favourite quilt was the patchwork quilt that Maman had made. She had cut rectangle-shaped pieces of fabric from worn-out or outsized clothes, spread a plain sheet on the floor and placed the rectangular fabrics beside each other like the pieces of puzzle to cover the sheet, she repeated this for four or five layers of clothes on top of each other and then sewed them together. This quilt was meant to be practical rather than something to be put on display. But I discovered one day that it was a collection of memories.
"Whose pink floral fabric was this?" I asked Maman, pointing at a square in the quilt.
"It was your oldest aunt's shirt that your grandfather bought for her when he had come back from Hajj."
"What about this blue dotted fabric?" I asked, pointing at another.
"It was a long-sleeved dress your uncle bought from Shiraz for Great Grandma when he was doing his military service there."
"Where did this narrow-leaved green piece come from?"
Maman smiled." This was the first maternity dress that my close friend sewed for me when I was pregnant with you."
"And this red fabric?"
"It was the beautiful shirt that your father bought for me as a souvenir from Isfahan when we were newly married."
In Farsi, these quilts are called chehel tikkeh. Chehel means 40 and tikkeh means pieces. The quilt may be made with more or less than 40 pieces of fabrics, but 40 is an important number that represents maturity. I like to think that by making chehel tikkeh every piece of cloth has been given another purpose and life. Especially during those days when most people were frugal. They might have one or two formal set of clothes they used for several years and then gave to younger siblings. Each of these journeys from one person to another made a piece of clothing more memorable than those in the present time where the closets are full of various kinds of clothes. Those memorable clothes create stories and the stories produce a beautiful lullaby that make our soul and body warm. Chehel tikkeh is not just a collection of fabrics, every piece has a unique story, and the stories represent the history of a family.
I have my own family now, a husband and two sons. My children will have their own, new memories, hopefully happy ones as I have. In our basement here in Waterloo there is a pile of clothes I intend to make into a new chehel tikkeh to honour the memories we are making now.