My Cherished Siblings
by Maha Eid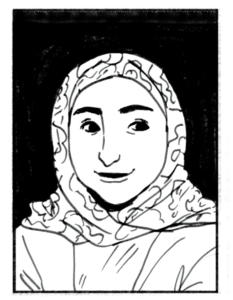 Whenever we set out on road trips, my parents had a strategic way of fitting us five kids into the family's Opel Vectra car, a German five-seater that was my father's pride and joy.
The Opel Vectra was what is known today as a mid-size car. It would typically fit the driver, a front-seat passenger and three people in the back. Between the driver and the passenger was an arm rest that my parents used as an extra seat for one of us. This was in the early 1990s in Cairo when car seats and seat belts were, if not optional, rarely used.
Early one morning, when I was fourteen, my parents woke me up and announced that we were going on a road trip. When I asked where we were headed, my father simply smiled. My mind quickly envisioned the serenity of a Red Sea destination, which I secretly hoped was where we were heading.
I was instructed to go in first as I was to sit on the front-seat arm rest and face the passengers in the back seat: my sisters, who were seventeen, ten and six, and my two-year-old brother. I was thrilled to be chosen for this special place as it meant I would be free to move without bothering anyone. But to my disappointment my mother ordered me to sit in the back seat with my sisters. My brother was given my spot on the arm rest. He looked pleased to be in my favorite spot. He was giggling while stuffing his mouth with what looked like a cream cheese sandwich.
All I could think was I hope I'm not stuck in the middle. Not only would sitting in the middle have meant that I wouldn't be able to find a comfortable sleeping position, it also meant I wouldn't be able to enjoy the view. Years later I discovered I was claustrophobic, and I have often wondered if this was why I resisted sitting in the middle when I was a child.
Dad opened the back door and instructed me and my older sister to sit next to the windows, and my ten-year-old sister to sit in the middle. And then, to my amazement, he gently laid my youngest sister on our laps. I tried to recall my biology and physics concepts to determine whether it would be least comfortable to have my sister's head or feet on me. Quickly determining that it would be her feet, I slyly told my older sister that she should take my sister's top half as she had a pillow next to her. She quickly agreed. I have always found my oldest sister to be the kindest and easiest to please of us all. I felt victorious. But I had miscalculated. My sister's legs fidgeted continuously. I sighed. I could never win with four siblings.
Regardless, I was excited to be in the car with our adventures lying ahead of us. All I could think about, and now smell, was the sea slowly approaching on the horizon. I could see the magnificent mountains on one side and the exquisite turquoise sea in the distance coming closer from the other side of the road. I had figured out where we were going! We were heading towards a beach resort on the Red Sea in Sinai!  Mum had packed our favorite snacks in the trunk and put some more next to her in the front. I felt my stomach rumbling just watching my brother munching on his sandwich. I looked out the windows and reminded myself there would be much more time to enjoy those delicious treats, that I just needed to relax and enjoy the moment. Dad opened the window as he started to smoke and in came the revitalizing smell of the Red Sea. I was ecstatic. I leaned forward and gave my little brother a kiss and he responded with a hug. I am reminded as I write this just how huggable and adorable he was.
This is what it was like growing up with four siblings. You needed to make sure you didn't get trampled upon, but the warmth of their existence was worth the discomfort. This has become even more clear to me now that we are scattered over the world, each of us living in a different country, our parents having both passed away.
As my younger sister started to fall asleep, I once again thought I must have miscalculated the concepts of volume and density. I had to admit that physics and biology were not my thing.
"How much longer?" I asked my father.
"As long as it takes," he answered, grinning. He is really enjoying teasing me, I thought. Although, I knew by now where we were heading, I was still not too sure where exactly we would be staying. It didn't really matter, as long as the trip included the Red Sea. The Red Sea, unlike the Mediterranean sea, does not get many tidal waves, and thus looks calmer and peaceful. It is also very clear, so that if you are standing in the sea you can see all the marine life easily below. People around the world visit the Red Sea for diving and snorkeling excursions.
My middle sister, who was gracefully tall and sitting in the middle was blocking my father's rear view. I could tell that he regretted not putting me, the short one, in the middle. I smiled, realizing I got away with sitting next to the window this time. By now my middle sister had fallen asleep and slowly her head started to fall on my shoulder. My brother also began to doze off and his head rested on her lap, where my younger sister was also sleeping. I decided that doing the same was the only way to end this agony. I just wanted to reach our destination as quickly as possible.
As I started to fall asleep, I felt as though I were floating in the air. I heard my dad flipping through the radio channels until he found a song by Umm Kulthum called Alf Leila we Leila ("A Thousand and One Nights"). Umm Kulthum was known for her vocal ability and style and was considered a national icon in Egypt and the Arab world. But this was my parents' special song. Whenever they heard it they would reminisce about their own love story. Years later a dancing water fountain that played the music of this song was built near my home. Hearing it would always take me back to this road trip.
Sitting in the back seat I began drifting to sleep as I heard the lyrics.
Ya habibi…… we enta wana…
ya habibi ana… ya hayati ana…
kolena fi el hob sawa……
we neool lel shams taali taali  baad sana mesh abl sana…
my love… me and you…
my loved one… my dear one…
all of us in love are into this together…
we tell the sun come back come back in a year and not before a year.
The song describes two lovers who want to spend eternity together and so are begging the sun to wait a year instead of a night before returning. Although Umm Kulthum's singing seemed annoyingly endless to me that day, I heard my parents singing along and remembered for a moment how much joy her voice brought to them.
A little while later, I opened my eyes and was forced to squint at the morning sun coming through my window. I have always preferred sunrises to sunsets. There is something about the start of a new day that excites me. I looked at my sisters and brother and let myself feel their presence and the security and comfort they brought me.
I am smiling as I write this, picturing my parents once again, and I find myself thinking how good life was.